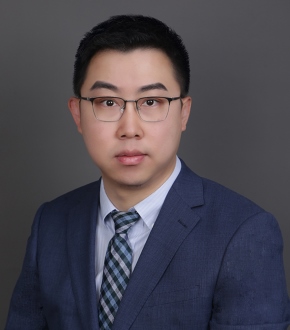 ZHANG, Siyue (Jacob)
Partner, Deputy General Manager, Manager, Senior Patent Attorney
Working Languages:Chinese, English
Download
Practice Experience:

Mr. Jacob Zhang has expertise in patent prosecution, patent invalidity, patent administrative and civil litigation, patent strategy design and portfolio development, patent due diligence and freedom to operate investigation, patent analysis, intellectual property anti-counterfeiting, etc., and he is very experienced in patent cases in technical areas of computer software and hardware, internet, e-commerce, electronics, telecommunication, semiconductor, image processing, display and lighting, mechanics, automation, etc.. Since March 2007, Mr. Zhang has represented many Fortune 500 companies in over 1,000 patent prosecution and litigation cases, among which a patent invalidity case he handled was selected as the No. 1 case of the Top 10 cases of the Patent Reexamination Board of the China National Intellectual Property Administration in 2016, patent civil litigation cases and the related patent invalidity case he handled were selected by people.cn (a state-run media) as the No. 1 case of the Top 10 typical patent cases in 2018, and a litigation case that he was involved was selected by the Supreme People's Court of China as one of the Top 10 intellectual property litigation cases of Chinese courts in 2019. Mr. Zhang joined Lung Tin in August 2016. Mr. Zhang and his team also manage the global patent portfolios comprising thousands of patents and patent applications in various jurisdictions on behalf of their Chinese clients.

Mr. Zhang was licensed to practice as a Chinese Patent Attorney in 2008 and was qualified as a Chinese National Information Engineer (Patent Information Analysis) in 2009.
Work Experience:

Lung Tin Law Firm, Lung Tin Intellectual Property Agent Ltd., Partner, Deputy General Manager, Manager, Senior Patent Attorney

Zhong Lun Law Firm, Patent Attorney

China Patent Agent (H.K.) Ltd., Patent Attorney

Liu, Shen & Associates, Patent Attorney
Education/Trainings:

M.Eng., National University of Ireland, in Microelectronic Design, 1st Class Honors

B.Eng., Beijing Institute of Technology, in Information Engineering (Telecommunication and Electronic System)
Publications/Presentations:

Speaker, "Infringement Determination, Burden of Proof, and Corresponding Strategies of AI-related Patent Litigation", China Artificial Intelligence IP Summit, December 2020, Shanghai, China

Speaker, "Damage Issues of Patent Litigation", Global IP Ecology Congress, November 2019, Beijing, China

Speaker, "Latest Developments of IP Litigation in China", Global Innovation Law Summit, July 2019, University of Washington, School of Law, Seattle, U.S.

Speaker, "Deconstructing the Implications of China's New Patent Law", MIP Global IP and Innovation Summit, June 2019, Shanghai, China

Speaker, "Patent Litigation and Other Dispute Resolutions in China", IPBC Asia, December 2018, Shanghai, China

Lecturer, "Overseas Intellectual Property Protection for Chinese Companies", Jiangsu Patent Information Service Center, December 2018, Nanjing, China

Speaker, "Prosecution and Litigation of Software Patents in China", IAM Software IP, October 2018, San Francisco, U.S.

Lecturer, "Comparison and Best Practice of Software Patent Prosecution and Litigation in China and the U.S.", Zhongguancun Intellectual Property Promotion Office, July 2018, Beijing, China

Speaker, "Protect Your Trade Secrets in China", FICPI World Congress, June 2018, Toronto, Canada

Lecturer, "Business Method and Software Patenting in China", European Patent Office, November 2017, The Hague, The Netherlands

Speaker, "Development of Intellectual Property Courts in China", MIP Global IP and Innovation Summit, August 2017, Shanghai, China

Co-Author, "New Lessons from a Milestone SEP-based Infringement Litigation", "China IP Focus 2018" Special Issue, Managing Intellectual Property

Author, "Revised Patent Examination Guidelines of SIPO: China Relaxing Barriers to Business Method and Software Patents", May 2017 Issue, China Intellectual Property
Social Activities and Honors:

"Beijing Excellent Patent Attorney (Outstanding Patent Attorney)", Beijing Patent Attorneys Association

"Beijing Intellectual Property Expert", Beijing Intellectual Property Office

Vice Chair, China IP Issues Committee, American Bar Association

Intellectual Property Consultant, China Chamber of Commerce for Import and Export of Machinery and Electronic Products

"Zhongguancun Foreign Intellectual Property Service Expert", Zhongguancun Intellectual Property Promotion Office
Working Languages:

Chinese, English