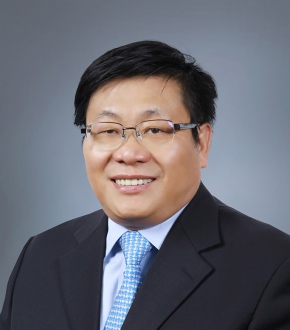 XIANG, Yong
Ph.D., Partner, Vice President, Senior Patent Attorney
Working Languages:Chinese, Japanese, English
Download
Practice Experience:

Dr. Xiang is responsible for the patent work and daily management of Lung Tin, as well as providing inbound and outbound patent services relating to Japanese and Korean markets. He has extensive experience in all intellectual property matters, including patent application preparation and prosecution, technology transfer and licensing, patent invalidation and litigation, as well as providing patent opinions and strategic patent counseling. He has a technical background in the areas of electronics, electric engineering and telecommunication. Since 1998, Dr. Xiang has been representing domestic and international clients for many years especially in representing those in the electrical engineering, electronics and telecommunication fields. Speaking and writing fluent Japanese, Dr. Xiang specializes in Japanese affairs. Dr. Xiang joined Lung Tin in 2009.

Dr. Xiang was licensed to practice as a Chinese Patent Attorney in 2010.
Work Experience:

Lung Tin Intellectual Property Agent Ltd., Partner, Vice President, Senior Patent Attorney
China Science Patent & Trademark Agent Ltd., patent attorney, manager of Japanese Patent Agent Department
A patent translation company, Founder & President
The Electronic Institute of China Academy of Science, Director for Research, the Chief Engineer and the General Manager of an innovation company established by the Institute

Education/Trainings:

Ph.D., Shizuoka University (Japan), in Medical Electronics
M.S., Akita University (Japan), in Physical Prospecting
B.S., China University of Mining and Technology, in Automation Technology

Publications/Presentations:

Speaker, "Protection of China's Technological Secrets", Annual General Conference of Kansai Intellectual Property Association of Japan
Speaker, "Introduction of Utility Model System in China", The 5th Meeting in Electrical Machinery Department of the Kansai Branch of Japan Intellectual Property Association
Speaker, "Interpretation of The Amendment System of Chinese Patent Law", AIPPI Japan Forum, Japan
Speaker, "Foreign Enterprises' Rights Strategy For Technological Achievements Generated in China", Research Symposium of Japanese Economic Industry, Japan
Co-Author, "Utilizing Psychological Contract Concept in Quality Management of Patent Agency", 2014, Article Collection for the Fifth Intellectual Property Symposium of 2014 ACPAA Annual Conference

Social Activities:

Member of the Board, China Intellectual Property Society
Member of the Board & Deputy Secretary-General, the Intellectual Property Alliance of China Mineral industry
IP Analysis and Evaluation Expert, Major Economic Activities in Shaanxi Province
Working Languages:

Chinese, Japanese, English