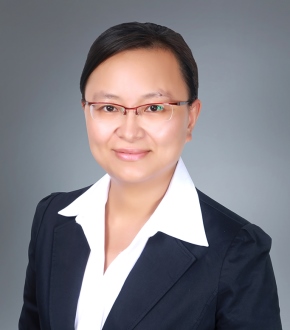 HUANG, Yan
Partner, Assistant General Manager, Manager of Mechanical Engineering and Design Department, Senior Patent Attorney
Working Languages:Chinese, English, German
Download
Practice Experience:

Ms. Yan Huang has expertise in patent drafting, patent prosecution, patent reexamination, patent invalidity, patent litigation, patent due diligence and freedom to operate investigation, patent layout, patent analysis, etc., she handled a large number of cases of domestic and foreign clients, and is very experienced in patent legal services in the fields of mechanical engineering and mechanical automation, such as, home appliances, engineering mechanics, automation manufacture, semiconductors, printing facilities, paper apparatuses, medical devices, computer equipment and so forth. Ms. Huang joined Lung Tin in February 2002, and has participated in many important and difficult cases.

Ms. Huang was licensed to practice as a Chinese Patent Attorney in 2007 and was appointed as a patent litigation attorney by the Supreme People' s Court in 2013.
Work Experience:

Lung Tin Intellectual Property Agent Ltd., Partner, Assistant General Manager, Manager for Mechanical Engineering and Design Department, Senior Patent Attorney
Beiren Group Corporation, Mechanical design Engineer
Education/Trainings:

J.M., Chinese Academy of Social Sciences, in Economic Law
B.Eng., Shanghai Tongji University, in Mechanical Engineering & Automation
Training, Centre for International Intellectual Property Studies (CEIPI, France)
Training, One Well-known IP firm (U.S.)
Social Activities:

Papers-gradnig Teacher Marking for the National patent Agent Qualification Examination, National Intellectual Property Administration, PRC

Expert, Intellectual Property Case Base of the Supreme People's Court, Supreme People's Court

Three-Star Patent Agent, China Intellectual Property Newspaper

Zhongguancun Foreign Intellectual Property Service Expert, Zhongguancun Intellectual Property Promotion Office

Expert, Beijing Intellectual Property Expert Database, Beijing Patent Attorneys Association
Publications/Presentations:

Author, "Getting Ahead (Explain the Latest Developments in Chinese Design Patent Prosecution and Enforcement and Offer Some Practical Tips)", 2011, "Managing Intellectual Property-China IP Focus"

Author, "Chinese Practice on Design Freedom Degree/Design Room for Design Patents", 2014, Intellectual Property Publishing House, "Attorney' s Perspectives on IP Practice (1)"

Author, "Strong Design Patents in China-Power of Similar Designs", 2016. 11, No. 117, "China Intellectual Property"

Author, "GUI Becomes Patentable Subject Matter of Design in China", 2018, Intellectual Property Publishing House, "Attorney' s Perspectives on IP Practice (3)"

Author, "Discussion about Grace Period of Novelty under China's Patent Protection System", 2019. 10, No. 152, China Intellectual Property

Author, "Designs: A Global Guide 2020 _China Protecting and Enforcing Design Rights: China", 2019. 11, WTR Word Trademark Review
Working Languages:

Chinese, English, German