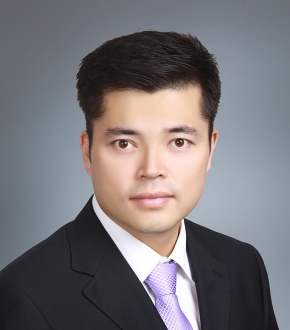 YU, Shun
Ph.D., Partner, General Manager, Senior Patent Attorney, Attorney at Law
Working Languages: Chinese, English
Download
Practice Experience:

Mr. Yu has extensive experience in patent searching, prosecution, reexamination, invalidation, litigation, portfolio, etc.. He has a technical background in the areas of semiconductor, microelectronics, integrated circuits, power, components, batteries, computer communications, and machinery. Since 2006, Mr. Yu has examined more than 300 invention applications as a patent examiner in SIPO and heard more than 200 cases about patent reexamination and patent invalidation and participated in many patent prosecution and litigation cases, when he was in the Patent Reexamination Board. So far, he has provided a number of well-known international and domestic enterprises with excellent patent service and represented a mass of patent invalidation and patent prosecution and litigation cases. Mr. Yu joined Lung Tin in 2013.

Mr. Yu was licensed to practice as a Chinese Patent Attorney as well as an attorney at law.

Work Experience:

Lung Tin Intellectual Property Agent Ltd., Partner, General Manager, Senior Patent Attorney, Attorney at Law
Patent Reexamination Board, Examiner, Principal of a Panel at the Electrical Appeal Department
SIPO, Examiner at the Electrical Examination Department
TCL, Assistant Engineer at the Multimedia Business Department
Education/Trainings:

Ph.D., Intellectual Property Academy, Renmin University of China

MPA, Tsinghua University

LL.M., China University of Political Science and Law, in Intellectual Property

Double Bachelor Degrees, University of Electronic Science and Technology of China, in Industrial Engineering and Electronic Science and Technology
Publications/Presentations:

Author, "Study on Standard Essential Patent Infringement", Ph.D.'s Thesis

Speaker, "Win-win Between Patent Agencies and Enterprises Under the Patent Quality Improvement Project", January 2018, Beijing, 8th China IP International Annual Forum & 2018 Annual Conference of In house IP Managers In China
Author, "Discussion on the Rules for Determination of Electronic Evidence in Patent Procedure", 2018, China Patents & Trademarks
Author, "Study on Interpretation of Claims in Special Circumstances", 2013, Master's Thesis, China University of Political Science and Law
Author, "Reflection on the Object Review of GUI", 2012, Examination Journal, SIPO
Author, "Standards for Examination of Business Method Patents", 2012, Examination Journal, SIPO
Researcher, "Study on the Effective Connection Between Patent Invalidation and Infringement Dispute Procedures", 2011, Research Project, PRB of SIPO
Author, "Choice of Enterprise Patent Strategy -- From the Perspective of Value Orientation", 2011, Decision and Information
Researcher, "Patent Early Warning Analysis in Packaging Field", 2009, Research Project of SIPO
Author, "Research on comparative law of Olympic intellectual property rights", 2009, Decision and Information
Social Activities:

Expert of the IP Cases Base of Supreme People's Court of PRC
IP Analysis and Evaluation Expert, Major Economic Activities in Shaanxi Province
"Outstanding Civil Servant" , Patent Office of SIPO
Working Languages:

Chinese, English